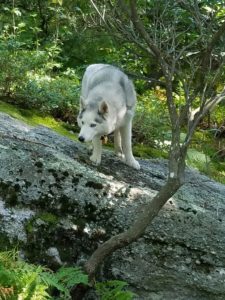 THE CATSKILLS: NATURE'S PLAYGROUND We wanted a camping destination relatively close to our central New Jersey home. The Catskill Mountains are just a little over two hours drive, only an hour and a half north west of Manhattan. They are known by locals as the "blue mountains" due to their uniquely beautiful coloring. There's dense forest as far as the eye can see. This sylvan paradise was perfect for a three day weekend holiday with the pack. We also desired a vacation spot that offered dog friendly activities. When we took the leap and added the third husky to our pack last year, our lovable rescue Lobo, we realized that travel might become more difficult with that many large dogs in the family. This is how we discovered the beauties of a travel trailer, the relatively luxurious camping that comes with it, and the ease with which one can travel with canines. The Catskill region is made for camping with dogs, with dog friendly campgrounds located in every possible area you might want to visit, and outdoor activities in abundance to keep both dogs and people happy. PLACES TO VISIT IN THE CATSKILLS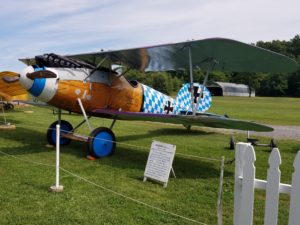 Old Rhinebeck Aerodrome The aerodrome has been in operation since 1959, when an old farm was purchased by pilot and vintage airplane enthusiast Cole Palen to house his vintage plane collection. He formed the aerodrome museum foundation in 1993 so the preservation, education and entertainment could continue past his lifetime. His cheery refrain when facing a complicated restoration job on an old plane was "No problem. It'll fly." It was with amazement that we watched lovingly restored planes from 1909 through the 1930's, take flight before us. It is a feast for the eyes and a tribute to Cole Palen's dream and his legacy. The engines roar to life and some planes take to the clear blue skies and others (the very old ones) would simply float gracefully across the demonstration field. It is a true living history of flight. Dogs are warmly welcomed at the aerodrome. We were told by several people where to find the oversized green water bowl and water faucet to keep the pups hydrated. And we were cautioned that some few dogs might find the show too loud – not so much the planes - there are some simulated shoot outs as part of the theatrical program. Our pups were not phased by the show at all. Lobo did get bored and begin to bark – that is so very Lobo – so we took a walk to get some popcorn together and he was fine after that. The aerodrome is open all day with active planes arranged around the fields and hangars housing other planes in various states of restoration. Seating for the 2 pm weekend show is on rustic wooden benches arranged beside the field. There are several consignment stands with everything from salmon burgers to ice cream to popcorn. The popcorn came in handy when we ran out of dog treats! The fee for the museum and afternoon air show is $25 per person. One can also purchase tickets for a flight in a vintage plane for $75 per person. People queue first thing in the morning for the flight tickets and they do sell out. The experience is truly unique, viewing the Catskill mountains and forest of the Hudson valley below, from the vantage point of an open cock pit in a vintage plane. Old cars and motorcycles are also part of the show and audience members are invited to dress up in vintage clothing and take a ride. The aerodrome is a true treat to visit and a bona fide gem of the Catskills.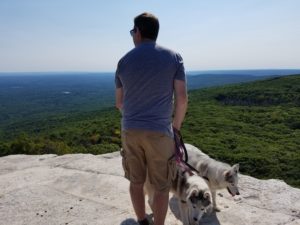 Sam's Point Preserve
Sam's Point area is part of the larger Minnewaska State Park Preserve. The drive up to the park entrance winds up the mountain, past some steep cliffs and gorgeous views. A few miles from the parking lot, along a scenic stopping point, is a hot dog stand. That vendor has a challenging location but the best view of any food vendor I have ever seen! The parking lot was quite full but we managed to find a spot. There is a parking fee of $10 per car, which is paid in a convenient parking kiosk. The park is a "carry in, carry out" location so there are no garbage cans and you must bring any trash home with you. The park is pristinely kept so it's obvious everyone respects this rule, which is common in many state parks. The trail leading to Sam's Point from the parking lot can be taken from the left or the right path. We chose to take the longer path to the left. The trail is as wide as a road, sometimes dirt, sometimes gravel and sometimes paved. It is well shaded and scenic, with mostly a gradual climb, although there are some more challenging inclines. Half way around there is a pretty lake to visit, Lake Maratanza. The pups dipped their feet in to cool off and enjoy the view. There are ice caves as well as a water fall, although we didn't visit those.  The waterfall area was closed and the ice caves we decided to save for a future visit, as there was no ice this late in the summer. Sam's Point has a lot to offer. The loop we walked kept us busy for hours at a leisurely pace, enjoying the weather and the scenery, and allowed us to visit the lake and the Sam's Point overlook. There was an abundance of hawks along the cliffs, soaring on the breeze with outstretched wings. This untouched mountain area looks like a hawk's paradise! There are eagles as well although we didn't see any this time. (A word of caution, there are rattlesnakes in this area. It's nature after all, with acres and acres of untrammeled wilderness. We didn't see a single one for which I am very grateful.)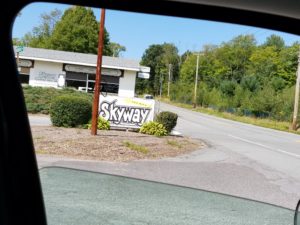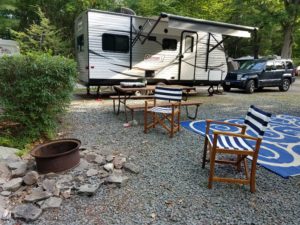 Skyway Camping Resort
Skyway is pet friendly, people friendly, and well run. The bath houses and restrooms are sparkling, obviously cleaned several times a day. The pool and hot tub are set well apart from the camping spots and overlook the surrounding forest and mountains.  The entire place is scenic, spotless, and well-laid out. The staff could not be nicer if they tried. We arrived late, after dark, and were escorted directly to our spot by a friendly young staff member in a golf cart. Our spot was perfectly level, offered trees for shade, some bushes for privacy, a gravel surface for our patio, and a picnic table and fire pit. There was some loud partying going on around us but it all ended nicely once quiet hours began at 11 PM. After that it was quiet, peaceful, nothing but crickets, and we slept long and well in our little haven. Skyway is a dog friendly camp ground. There were dogs everywhere, much to our pups' delight. Dogs love dog watching just like people love people watching. It's a constant source of amusement. There is an enclosed dog park for off leash fun for your canines; we were so busy sight seeing that we didn't avail ourselves of this thoughtful amenity. After days full of adventure, at the Aerodrome and Sam's Point and simply driving the beautiful forested roads of the area, we were happy to return each evening to our relaxing camping spot in Skyway. All in all, a very happy excursion to the Catskills!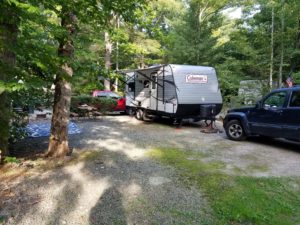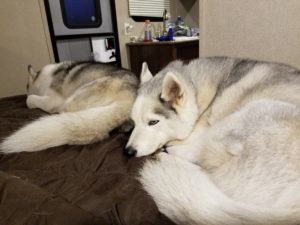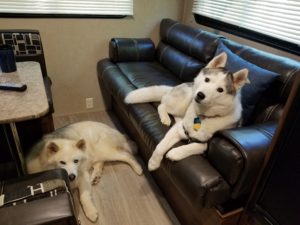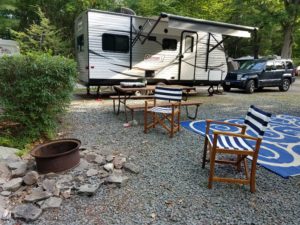 THE COLEMAN LANTERN EDITION TRAVEL TRAILER (192RDS)
Our Coleman Lantern Edition travel trailer offers a queen size bed and a couch and dinette, both of which convert into beds. It's on the small size for a travel trailer at 19 feet but it is just perfect for our family. Two people and two dogs can sleep on the bed (cramped but we're used to it!) and one dog takes the floor or the couch. With a small kitchenette and bathroom with shower, we are well kitted out to camp at length should we choose. The bathroom even has a small tub should one dare to wash a dog...!  The couch is a fake leather which is ideal for those like us with shedding dogs - no need to vacuum - just brush it off and sweep it up! This small trailer has the advantage of being tall which makes it seem even roomier. As my husband is 6 foot 3", this is a definite plus. Having tent camped last year with the pack, this travel trailer is like a luxury hotel to us. We love it so much we sometimes sleep in it in our driveway on weekends when we are not camping! © Copyright 2016, Woofus | Janet McGrane Bennett. All Rights Reserved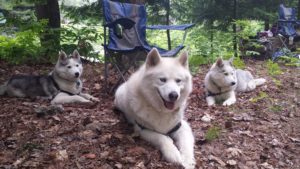 Our latest foray into New Hampshire was blessed with cool mornings and evenings and warm, sun-kissed days. The longest day of the year was nigh and that was lovely too - we had glorious daylight until almost nine o'clock. Fiona, Secret and Lobo are great travelers. We create routine for them within the boundaries of travel and this is a key to happy, travel savvy dogs. How do we do this? The basic routines involve, quite simply, food and potty breaks.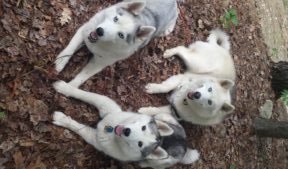 THE MORNING ROUTINE When we wake in the morning, whether it's 6 am or 9 am, we walk all three dogs so they can pee and poop if they need to do so. They know this, expect this, and rely on this, as well they should. This typically means wandering around camp bleary eyed in our pajamas, with a roll of blue poop bags sticking out of my pocket, but camping is casual and that is fine for us. No matter how sleepy we are, we are watchful for critters (chipmunks, snakes, bears, frogs, other dogs, moose). Rob takes two dogs and I take one. Soon after we return to the camper, the tea kettle gets placed on the stove for me, and I begin preparing their bowls of food in our handy dandy bento bowls. At home, each dog is given his or her food bowl in a specific order and in a specific spot. This is how I create order and boundaries for meal times. I do the same in the camper - Fiona first by the dinette, Lobo next by the door, and Secret, third, is fed in the middle near the fridge. The dogs take a fish oil vitamin every morning in cream cheese and this is given before or after their breakfast. Lobo, ever vigilant for breaks in beloved routines, barks at me if I forget! THE EVENING ROUTINE The same routine is followed in the evening. Dinner is served somewhere between 5 pm and 7 pm. I like to vary the time - same goes with breakfast -  so they learn to be a little flexible. Before we go to bed, they get a long walk around the campground to pee and poop. Then we settle in for the night of watching a movie, sitting by the campfire gazing at the flames, or falling blissfuly asleep to the tune of crickets and bullfrogs.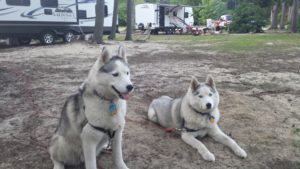 CAMPING WITH DOGS You will find dogs everywhere in campgrounds. On leash, off leash, in vehicles, in golf carts, in tents, in pop up campers, in travel trailers. It really is a dog lover's paradise. This is why camping made such sense to us; it makes traveling with dogs easy. We've done the hotel stays with one dog or two and that was great, albeit expensive. Now with three canines in our family, camping is the answer. Of course camping also means a lot of time spent outdoors, which we, as a family, love and appreciate. LEAVE THE CAMPER BEHIND?! HECK YEAH We discovered a great travel trailer "trick" on this last trip. The campground we were staying at has a policy, based on availability of course, where you can leave your trailer in place for two consecutive weekends, as long as you book and pay for the two weekends at once. To keep the electric on (and the items in your fridge and freezer cold) you pay a very minimal fee. So the camper waited for us patiently all week long and we didn't have to drive it back and forth from New Jersey twice. It was like having a familiar vacation home waiting for us in another state. I guess this is why some folks have "seasonal" spots at campgrounds and just drop their trailer in place for the entire summer season. The savings in gas and tolls alone almost paid for our second weekend. When we drive with the trailer, we must stop at least every two hours to gas up. When we drive the car alone, it is every four or five hours. The difference in ease of travel (not having an extra 22 feet of vehicle in tow to maneuver) and savings (cut the gas expense in half) with not having something in tow is huge. Staying two weekends in a place satisfies our desire to get to know a place better by staying longer. This pack is ready to travel! © Copyright 2016, Woofus | Janet McGrane Bennett. All Rights Reserved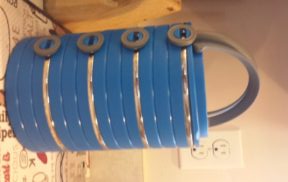 Our journeying begins in just a few short days. Feeding three woofuses on the road will have its unique challenges. I have been looking for food bowls and a water bowl that are sturdy and easy to pack in the K9 Camper. The Bento bowls by Go Pet are a revelation to me, stylish, convenient and well made in the USA, North Carolina to be exact. Made of human-rated, food grade stainless steel (yes, this can be different from pet-grade, believe it or not) and BPA free plastic, these sleek bowls link together neatly and securely for travel. They come in your choice of two bowl, three bowl or four bowl configurations. We opted for the four bowl of course, to feed and water our pack of three dogs.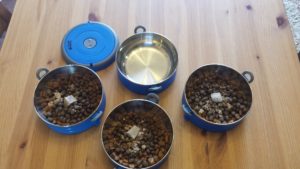 Each bowl holds up to 20 ounces of dry kibble. The top bowl holds 16 ounces of water, has a vacuum seal on top and a handle for carrying the whole kit. Bowls can also be used to carry all sorts of pet accessories - leashes, poop bags, treats, toys, medicines and more - almost like a small suitcase for your dog. The only suggestion I would make for this nifty feeding gear, is to offer the multi bowl kits in different colors for each bowl or to in some way differentiate them. I lose track of which bowl is for which dog. As I do feed them slightly different amounts each, having color coded bowls would be a big help. I am quite pleased with the compact nature of the whole kit. In a travel trailer, there's not a lot of storage room. The four bowl set is only 8 1/2" tall and 6" in diameter, when all clipped together. You can of course pack the food and water in the bowls themselves if you are just taking a short journey. Heading to grandma's house for the day - easy peasy - send the Bento bowls along with your pup's dinner!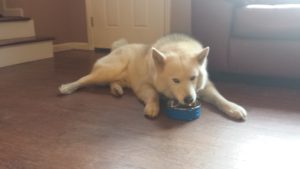 The bowls may seem a bit small for large dogs like huskies, but they fit our food nicely with some room to spare. Lobo is an eighty pound dog and the bowl suited him just fine! Where to buy: Check out these unique pet travel bowls by Go Pet online at Healthy Human Life. Price: $18.99 - $26.99 Colors: Liquid Blue, Kiwi Green or Hawaiian Pink. Sizes: 2 Bowl, 3 Bowl, 4 Bowl  (Please note that the sizes refer merely to the number of bowls in your set - the bowls are all exactly the same size.)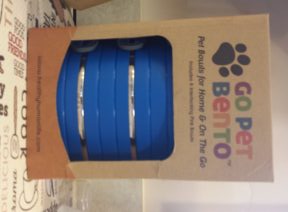 At Woofus, we love to see dogs on the go - the Go Pet Bento makes packing for your dogs' travels effortless! © Copyright 2016, Woofus | Janet McGrane Bennett. All Rights Reserved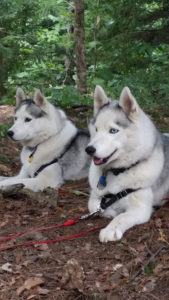 A week from today we begin a long-awaited season of adventure, traveling with our three woofuses and staying in our home away from home, the K9 Camper. Our first destination? New Hampshire. I think it is a fitting topic for Earth Day today, exploring our big blue-green marble. What do I think I know of New Hampshire? Pine forests, rocky beaches and maple syrup. I know once there, we will discover much, much more! For far too long my husband Rob and I have traveled with a purpose, usually business,  and this left us no time to explore and enjoy the places we visited. Now we are like the crew on Star Trek, planning a voyage simply to explore and make the "unknown" known to us. Travel beckons, lifting the spirits and inspiring day dreams of unexplored fields, mountains, streams and tiny towns. I have so many places in mind to visit. I don't call it a bucket list, because that to me says that I won't visit that place again. I enjoy going back to places I love. Let's call it a dream list. I have yet to visit Saratoga Springs, Niagara Falls or the shores of Maine. All of these populate the dream list. Then there's Chincoteague Island (I was a fan of the Misty books as a child), the Florida Keys and The Great Smoky Mountains of the Carolinas. All of this is just staying on the east coast. To travel west, we need time. It takes time to get there and we want time to explore once we arrive. This requires more than a long weekend. Journeys further afield like this may need to wait a year or two until we organize our lives to accommodate it. However the dream list knows no boundaries of space or time. So let's add the Redwood Forests, The Grand Canyon, and Glacier National Park to the itinerary of our dreamscape.  And I must see the Dakotas. My father told me once of staying at a motel in North Dakota, and each parking spot had a heating device to warm your engine. Weather that cold - our snow dogs would be in heaven! We would probably visit in the warmer summer months; the K9 Camper has a heater but I wouldn't want to test it on sub zero degree weather.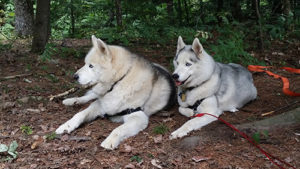 Dogs need to travel as much as we do.  I know a lot of dogs, like people, are home bodies. Yet dogs' senses are so finely attuned, that they smell and hear intensely, at a far greater level than humans. Imagine the joy they feel in an entirely new environment, with foreign smells and sounds to investigate! Ecstatic sensory overload. Knowing that a change in routine - new places, new faces -  is not just acceptable, but loads of fun, will make both you and your dogs more confident and happy. We've picked up some light up dog collars for night time exploring. I've packed a new tiny tea kettle to make tea every day, to jumpstart each day's adventures. We'll be sleeping in the camper this weekend (in our driveway) to further acclimate the dogs to our new holiday home. We are ready to explore! © Copyright 2016, Woofus | Janet McGrane Bennett. All Rights Reserved
Spring is right around the corner and we are very excited to begin traveling with our three woofuses. Rob and I have talked about getting a travel trailer for a few years now, and this year it has finally happened. We did some research at our local Camping World and one week later found ourselves driving home an adorable new vacation home on wheels. It's perfect for pup-cations! Our Coleman "Lantern Edition" lightweight travel trailer is large enough to be comfortable yet small enough to be towed by our jeep liberty. We walked into the model on the lot and instantly knew it was the right one for us. This little recreational vehicle has everything we need to travel comfortably with the pups, in miniature.  A tiny kitchen equipped with a small fridge and freezer, a double sink, a three burner stove with a half sized oven (it fits half sized cookie sheets – hence my term of measurement), a functional bathroom equipped with toilet, sink, medicine cabinet, shower and small bath tub, and a cozy but sizeable bed nook. There's a small dinette area with booth seats and a table (it's like always getting the cool booth at the diner) and a mini fake leather couch which folds down to a bed (aka dog bed). The fake leather upholstery was actually a big selling point for us, as dog hair sweeps off easily, unlike cloth seats. There is an electric canopy out front with a string of LED lights, providing substantial daytime shade for people and pups, and fun ambiance at night. When the weather is cold, we have heat and when it is hot, we have air conditioning (very important for snow dogs). We hung a small TV on the wall by the dinette so we can enjoy movie nights (with home made pop corn popped on the tiny stove, of course!). The first movie we watch will be Star Wars. This is a tradition of long standing. Years ago when we started traveling with our first husky Sabrina, we went tent camping. We had a small tv with a VHS player built in which Rob's mother had picked up for us at the thrift shop where she volunteered. As crazy as it sounds, we brought it along and watched Star Wars in that tent on that tiny, second-hand TV. We still remember it as a magical moment in time, watching one of our favorite movies from childhood, in a tent in the middle of the woods. Some may regard watching a film as anti-camping but I say to each their own – it gave us joy and the woods were not insulted by it! Sabrina curled up on the floor of the tent right in front of the TV and fell asleep watching Star Wars with us. That dog was born for travel! She took to it like a champ. And thus two unique traditions were born - traveling with pups, and watching Star Wars on the road. This past weekend we slept in the travel trailer, in our driveway at home. We were so excited and wanted to see what it would be like to spend the night there in our new little vacation home. We leashed up the dogs and walked them into the trailer, locking the door behind us. When we went to sleep, all three dogs piled onto the "short" queen sized bed with Rob and myself. After a little while, Lobo jumped off and onto the floor. The bed is tucked in to the right of the doorway as you enter the trailer, with walls on three sides, one of which sports a small window. There's no walking room around it, which provides a snug, cozy feel. I'm not sure why, but it reminds me of the loft beds in the Little House on the Prairie books. We live in a quiet cul-de-sac so all was silent in our neighborhood. We slept well with one major exception…. What we discovered was no surprise as we'd been forewarned by a number of reviews. The bed was horribly uncomfortable! Hard as a rock. We are planning to add a foam mattress pad on top – we'll report back on that later. I am very glad we did this trial run at home before we spent an uncomfortable weekend on the road. I love the book
Travels with Charley
by John Steinbeck. The famous author travelled in a pick up truck with a small camper built on top of the truck bed. He lived in this cool camper with his large standard poodle Charley while they travelled across the USA. Together they rediscovered the grass roots United States which Steinbeck had immortalized in books like
The Grapes of Wrath
and
East of Eden
. Do I seek to emulate this book-worm inspired journey? Heck yeah! It's the coolest travel book I know. Onward, ho, to the pack and the peeps.  Stay tuned for our journeys when we sally forth in the spring, leashes in hand, bikes on board, and adventure in our hearts. Home is indeed wherever the pack sleeps. © Copyright 2016, Woofus | Janet McGrane Bennett. All Rights Reserved