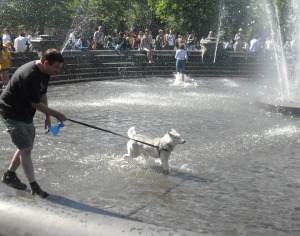 Dogs make good traveling companions. With a little preparation and training, you and your dog can easily enjoy adventures away from home – together. On a recent visit to New York City we put our young Siberian Husky Fiona's travel skills to the test.
EXPOSURE TO DIFFERENT PEOPLE AND LOCATIONS
My husband Rob and I determined when she was a pup, that our Siberian Husky Fiona must be a good traveler. From her puppy hood we have taken pains to expose her to all different people, scenarios and places. As a result she is non-plussed by loud noises such as the roar of trains or screech of sirens, is comfortable with people of all shapes, sizes, and colors, and can navigate busy streets on her leash well following our lead and commands.
APPROACHING OTHER ANIMALS
The approach of other animals can put your training to task. We work on telling Fiona to "leave it" well in advance of approaching another dog or small creatures such as squirrels and birds; this is because she has a strong instinct to play and we have to work to control her excitement when she sees a canine or other companion coming her way. If you start well before the animals pass each other, you have a better chance of keeping your pet under control.
FEARS AND PHOBIAS
No matter how much you've worked with your dog, he or she still may have some fears that you need to be aware of when traveling. Fiona is terrified of city grates. She goes to great pains to avoid them. We are watchful for grates wherever we go. If your dog is made uncomfortable by particular events or things, simply be wary and try to notice them before your dog does. That way you can act accordingly to avoid it or prepare your dog to deal with it.
PET SUPPLIES TO BRING
One must have certain supplies when traveling with a dog. The first priority is a travel bowl and lots of water. Most pet stores sell convenient folding travel bowls that do the trick nicely. There's a company called Outward Hound which makes this and other travel accessories for your pet.  If you will be traveling during your pet's meal time bring food and a food bowl. You should have small treats to periodically reward and encourage good behavior. Carry along a chew toy to keep your pet occupied when you stop somewhere to rest. And an absolute must is poop bags to clean up when she needs to go. We also bring a brush with us in case Fiona's typical husky shedding gets out of control. Who wants to pet your dog if they will get covered in fur? The final, although not critical tool, is a camera to document your adventures with your dog!
LOTS OF WATER AND BATHROOM BREAKS
In order for your dog to travel comfortably, particularly in a city environment, you must bear a few things in mind. Some dogs will not do their bathroom business on pavement – our Fiona is one of them. When walking around, keep an eye out for small strips of grass or parks so your dog can relieve himself. Dogs can also get overheated easily, especially in summertime with their paws on hot pavement all day. Stop frequently to offer water to your dog to drink. Fiona took an unconventional way to cool off on our visit to Washington Square Park – I don't recommend this at all but, unlike most Siberian Huskies, she is strongly attracted by bodies of water. I won't look at the Washington Square Fountain the same ever again!
IMPORTANCE OF REST BREAKS
After walking for a while, you may want to stop so your dog can rest. You may not think that your dog needs it – most dogs seem indefatigable and will follow you to the ends of the earth happily wagging their tails. However, if your dog "crashes" and can't go any further, you may wind up carrying him or her. This happened to me with our family dog growing up; Lou was a forty pound hound dog-corgi mix. On a hot summer day he tired of our walk and refused to budge before we'd reached home. I can't tell you how many neighbors said they saw me carrying him home that very long mile. It must have looked rather comical but it was a herculean feat for me at the time! So as you can tell, for a small toy dog no big deal – if you've got a St Bernard on the leash, this may be a major problem. Take periodic rest breaks to avoid this dilemma.
RECOGNIZING PERSONAL SPACE
Fiona still sometimes has the tendency to jump when greeting somebody. The best way to prevent this is to step on her leash to shorten it. That way she is forced to stay in place to be petted. People often stop us to pet her. She's very friendly and loves the attention. Not everyone loves dogs, however, so keep your dog on a short leash while walking so as not to get in anyone's personal space. There are many people with a fear of dogs and no matter how sweet your canine, they do not want your dog near them
STOPPING TO EAT
The most difficult part of traveling with a dog is finding a way to eat a meal. Restaurants understandably do not allow dogs indoors. However, some do allow your dog to join you at outdoor tables. This is a rare find so enjoy it when you find it. We were lucky to find the Hollywood Diner in New York and had a leisurely lunch sitting at an outside table in the sunshine, with Fiona luxuriating at our feet with her water bowl nearby. The other option is take out. Even most upscale restaurants will do take out. So order your food to go and make sure they include forks, knives, napkins, etc. If the weather is nice you can sit on a bench to eat or on the grass in a park. If the weather is not nice, you can always take your meal back to your car. If you are in a scenic location you can always sit facing the ocean or some nice overlook while you eat. If it's meal time for your dog, this is a great time for you to chow down together.
CITY DOG PARKS
Many cities have fenced in dog parks. If your dog is young and you want him to burn off a little energy, this is a good way to do it. We took Fiona to two dog parks in New York, one in Washington Square Park and another in Madison Square Park. Your dog must play well with others, must be fixed, and must have all of his or her shots up to date. There is a dual gate system to enter and leave most of these parks to ensure no dogs get loose. Enter the first gate and close it behind you. Then enter the park and close the second gate behind you. Take the leash off your dog and let him run! One note of caution if your dog is a climber or a jumper – check the height of the fence. If you think your dog will jump it, the park may not be right for you and your dog. However, most dogs have so much fun inside the park that they have no interest in getting out.
Dogs are a part of your family and it's fun to bring them along when you travel, even on a day trip. Bear in mind our few tips so your trip is enjoyable for human and canine alike. Oh, and about Fiona – she was still sleeping off her New York City adventure at twelve noon the next day!