We visited th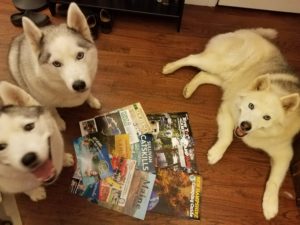 e NJ RV and Camping Expo last weekend. We came home with a host of brochures to share with the pups: camping guides from New Jersey, New York, Connecticut, Massachusetts, New Hampshire, Vermont, Maine, Pennsylvania and more.
There was so much to look at at this expo – it really was overwhelming. I didn't expect so many campgrounds to have representation. I could ask questions to my heart's content.
What are the important campground questions to us? In order of importance:
Is your campground pet friendly? (If no, bye bye)
Do you have a dog park? If yes, how high is the fence? (we need at least 4 feet – 5 feet tall is ideal)
Do you have a per camp site dog maximum? (some campgrounds only allow 2)
Are your sites grass, gravel or pavement?  (pavement is simply not camping; pups don't love to walk on gravel, especially Fiona)
Do you offer wooded spots? (We fasten the trio securely to a tree on long leashes. Those stakes in the ground don't work with huskies, who have a lot of pulling force for their size)
Of course, after the dogs' needs are covered, the peeps look for amenities like heated pools and hot tubs, waterside camping, bike parks and hiking trails, and a well stocked camp store with local goods (like maple syrup in Vermont or farm fresh chocolate milk in New Hampshire). We also look for a good amount of privacy and spacing between camping spots. There's nothing worse than being right on top of your neighbor's campsite.
After we visited all the campsite vendors, we came upon a sea of RV's of all shapes and sizes. We already have our little Coleman Lantern Edition Travel Trailer and are extremely happy with it, but we still love looking at other campers. Most are just way too big for our needs. We consider our little Coleman home on wheels to be glamping already! However, some of these well appointed behemoths are way over the top. We can turn our noses up at all of them, save one.
THE KEYSTONE MONTANA 3820FK Fifth Wheel
© Copyright 2017, Woofus | Janet McGrane Bennett. All Rights Reserved