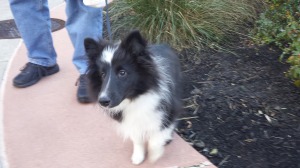 Featuring 120 popular outlet stores connected by a wide walkway, the Jersey Shore Outlets in Tinton Falls, New Jersey, offers an opportunity for a fun outing with your pup. The stores do not allow dogs inside, but they are of course allowed on the wide, beautiful walkways between stores. You might want to bring a friend along to take turns dog sitting while the other shops inside.
Dogs live for new sights and sounds and especially smells; crowded, fun places like the outlets are an entertaining break from the same four walls and yard they are used to at home. It gives your dog a wonderful social outing, meeting other people and other dogs.
On our recent trip to the outlets (on this occasion we left our pups at home), we had the pleasure of meeting a few dogs, Lola and Comet, who were shopping with their peeps. We did see one small dog inside a store – dogs who are small enough to be carried can often get away with this. Our huskies do not fall in that category!
If you have a small dog, please bear in mind that it is important for them to also have feet on the ground, walking on their own four paws, to appreciate the full experience with their senses and to engage with their surroundings. Dogs who are carried can miss the complete experience.
Like most outlets, you will find a food court with outdoor tables so you can eat with your dog!